As soon as we got our Clancy, we switched from Airbnb mode to camping mode, so we headed to African Overlanders. Located on a farm about 30kms north-east of Cape Town (with a great view of Table Mountain to the west and the Hottentots Holland Mountains to the east), and not far from the Airbnbs we stayed at when we first arrived here, it is a haven for Overlanders needing vehicle or motorbike storage, mechanical assistance, advice or a place to stay – either camping in their own vehicle, tent or in one of the straw-bale rooms. Duncan can also organise shipping.
We spent 4 nights there getting organised to head off into the wilderness. Greg was busy doing big tasks including fibreglassing a storage box onto Clancy's roof, bolting a solar panel onto the roof, putting his pushbike together and other important things. I kept busy doing little stuff like washing, cooking and moving piles of stuff from one place to another, then somewhere else then back to the original place. Well, that's how it felt anyway. We're still figuring out where to store stuff, but that's always a work in progress.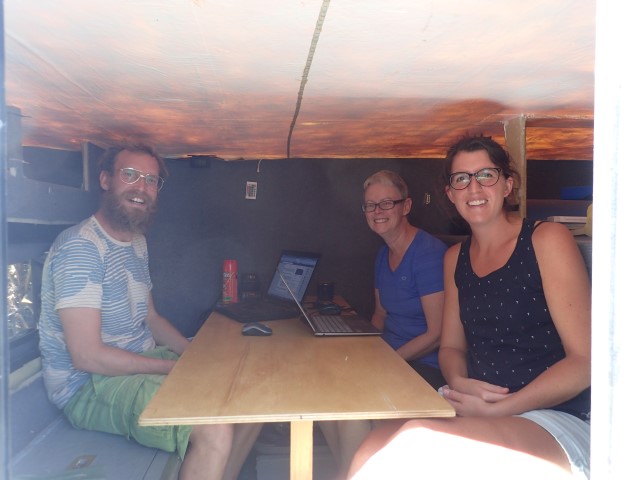 While we were at African Overlanders, we met fellow travellers and exchanged stories. Most had been on the road for a while, travelling from north to south via various routes. It was good to hear their advice, tips and tales. The second night we were there, 8 of us shared a meal – someone had leftover curry sauce and rice from the previous night, I added the chicken sosaties skewers I'd planned to cook for our dinner, someone else had a baguette and salad ingredients and with all that we had heaps of food with seconds for everyone. We ate off Meakin  English bone china plates, which are part of the very well-equipped camp kitchen that's located in a 40ft shipping container. The bathrooms are in a 20ft shipping container.
African Overlanders is fairly close to the shopping centres we visited when we were Airbnb-ing, so we went back to familiar places to do our shopping. Greg also rode the 5 or 6kms on his bike a few times to go to local shops to get some food and hardware bits, because it was much easier than packing up the camper to drive there. Also, the camper had to stay stationary for 24 hours or so while the fibreglass on the roof dried. So it was handy having the bike for running errands.
We said goodbye to Anna and Henry on Friday – they were meeting friends for the weekend. We'll miss them and will follow their adventures with great interest. As they are planning on spending a year in Africa, I'm sure we'll get some good ideas from them on where we should travel on our subsequent trips within and around Africa.
And then by early Saturday afternoon we were finally organised and packed up to get going. First stop was Food Lovers, our favourite fresh food shop, where we bought lots of new potatoes for Greg and 3 punnets of raspberries at the bargain price of $2.50 for all 3! As a comparison, at home I occasionally buy one punnet when raspberries are on special for under AUD$5.00. We bought some other food too. We spent our first 'proper' night in Clancy – sleeping in the camper rather than in a tent – at a lovely campground at Kardoesie, grassy sites, lovely views, quiet and not crowded. All went well and we feel like our set-up is working well for us.
Yesterday, Sunday, we drove further north and stopped at Springbok Caravan Park for the night. Another nice place with grassy sites and a swimming pool. Springbok is very much like Alice Sprince – low mountain range going through the town, very similar terrain and even some hills in the middle of town, like Anzac Hill in Alice.
The Namibian border is only about 100kms north of here, so today will be our first border crossing in our own vehicle, and we'll get to use our Carnet for the first time.