It was a bit of a cool morning. I think I have become to used to having power and turning on the heater in the morning. I thus shamefully started the diesel heater for a while. I got moving a bit after 9am, visited the office for payment and a chat. Then it was off to Pafuri entrance to Kruger National Park. So after paying $A47 for the privilege of driving through 35km of the park to get to the Pafuri border gate, I arrived at the border.
I was very, very nervous. My TIP (temporary import permit) had expired 18 months ago. so I had specially chosen Pafuri because I didn't think they had customs, who would question me on my expired TIP.
I was right. No problems getting my passport processed, and the Police gave a cursory inspection of Clancy, and I was on my way to Mozambique! At the Moz side I paid 1000 rand for a visa ( Facebook said 550R or 850R but who was I to argue). Then 200R for a TIP, and 100R for some other piece of paper from the Police. Then it was the cursory inspection of Clancy plus the request for soft drinks, to which I provided 3 cans of coke that I had prepared earlier for this very request.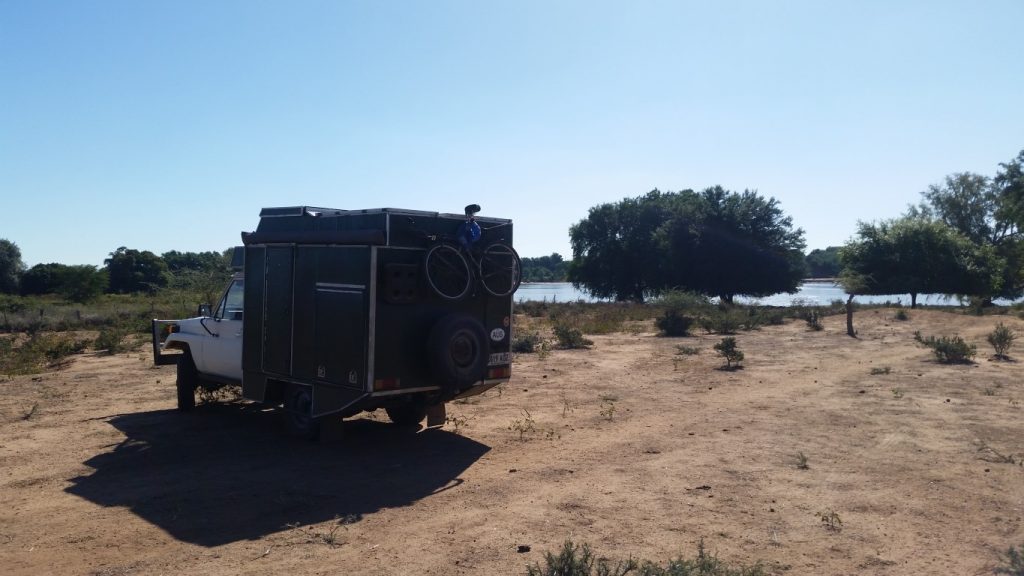 Onwards towards Mapai. It is a rough slow road, barely a 4wd track in places. 25kmh most of the time. I was looking for places to stop for the night when I suddenly arrived on the hand operated ferry across the Limpopo. Another chance to be very, very nervous. I asked the guy in charge about shifting the diesel drums of the roof, to lower the centre of gravity, but he thought it unnecessary. So 700R (Facebook said 500R) I gingerly drove Clancy on the boat that did not seem big enough to support the 3+ tonnes of Clancy. However all went well and they poled it across the Limpopo and I reversed off the other side.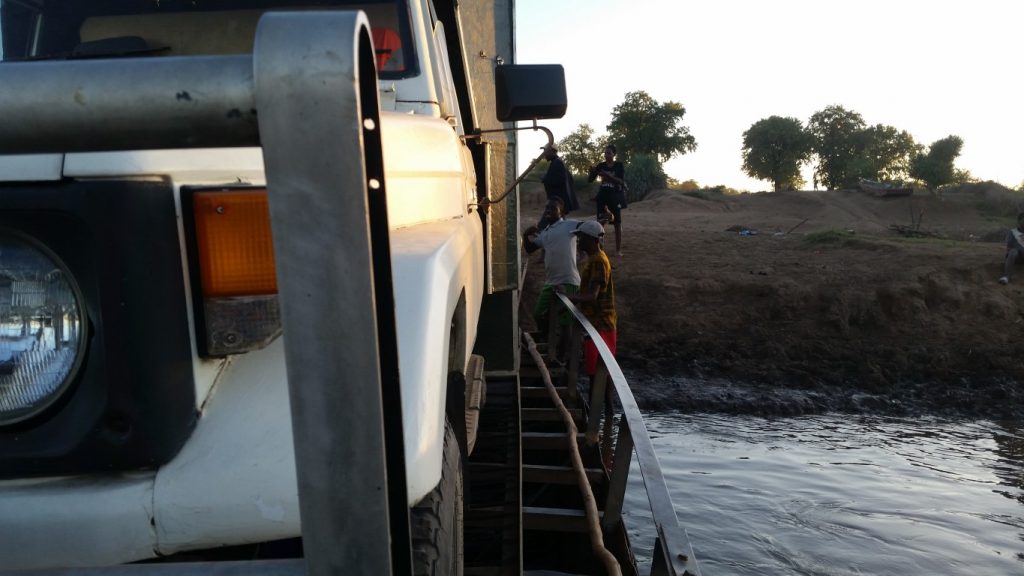 It was getting dark and I was driving down tracks in the growing gloom. I got completely lost and ended up parked by the side of a track between a couple of villages. I would have to figure it out tomorrow in the light.