Okay, so … we finally got Clancy late on Tuesday afternoon, after a couple of days of hanging around a lot and waiting for things to happen. It was my birthday on Monday and after an early-morning call to let us know that Customs were inspecting the container, we drove to Bidvest SACD where it was being stored. By the time we got there, Customs had left, having apparently opened the container, glanced inside and then closed and sealed it again. We stayed close to Bidvest for the rest of the morning, but by early afternoon we realised that it wasn't going to be happening that day, so we booked another Airbnb, extended the rental car for about the 4th time and got on with our day. We had a lovely dinner at Moyo, an African restaurant at Bloubergstrand, which is on the coast north of the city with a perfect view of Table Mountain, Robben Island, kite-surfers, windsurfers and the setting sun.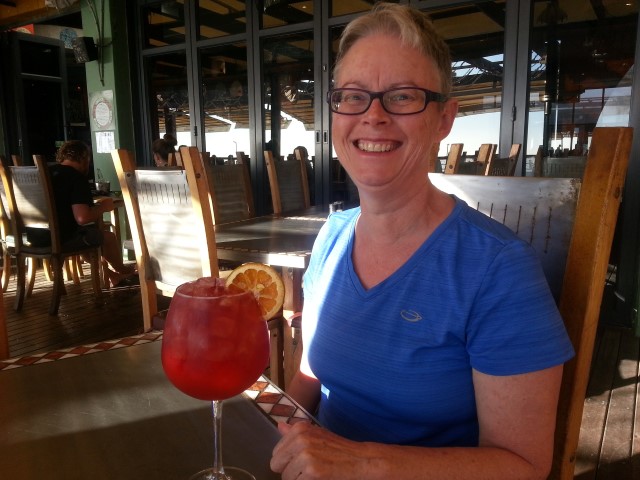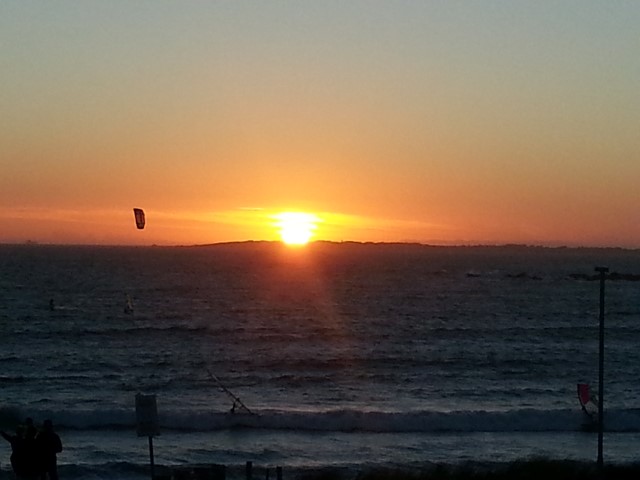 Next morning we were up and out the door by 8am to drive back to Bidvest because we really, really thought we'd be able to get Clancy on Tuesday. It ended up being another day of a lot of waiting around, punctuated by a visit to a colleague of our shipping agent to hand over a very large pile of ZAR South African rand to pay for the SA portion of the shipping cars to Africa exercise. The colleague, Daya, asked why we were paying cash and not doing bank transfers, and we told him that we had been advised that we could only pay cash, so that's what we had prepared for. Right. So …. payment made …. now let's get our cars!
Hmm, not so fast. More waiting, more paperwork, a courier had to bring our carnets, which is sort of like a passport for a car and which is a requirement for any vehicle shipped here. By this time it was around 3pm and apparently whoever does the container stuff finishes work at 4 and so it was looking like we weren't going to get our cars that day, unless we paid AUD$150 in 'overtime charges'. We didn't have to think to long about that one – it would have cost the 4 of us at least $100 in accomodation, plus extending 2 rental cars for another day, so we agreed to pay the charge.
And then when we were waiting for more paperwork so we could get our cars, the power went out because of loadshedding. Argh! More waiting, more muttering under our breaths. As Anna commented, it's like every single person we have dealt with during this whole process has never ever imported a vehicle in a container before. Anyway, eventually we got to our container, and the company agreed to waive the overtime charge. We were all so happy to finally be reunited with our cars.Both vehicles and their contents were in exactly the condition they were in when they went into the container, apart from Willie suffering a broken battery terminal  which Henry and Greg fixed with brown paper and string   …… not quite, but a bush mechanic would have been proud of them.
We had been very careful packing Clancy, following a comment from our friend Liam who had spent time working as a Customs officer in Sydney. He told us about a vehicle he'd inspected that had got wrecked inside because of a loose box of cutlery  which just smashed everything it came in contact with during the sea voyage.  We made a rule that whatever we packed had to either be full or empty, no half-full boxes or storage spaces, and no 'wriggle room' between anything. We used cheap yoga mats, bubble wrap and bed linen as padding where we needed to. That worked well, nothing moved and we kept everything intact.
First stop was the servo 500m down the road (thankfully both cars had enough fuel to make it there), then we all drove in separate cars to the airport to return the rental cars, and then on to African Overlanders which offers a campground / vehicle storage / maintenance / mechanic / shipping agent that was highly recommended by other Overlanders. We unpacked just enough to get to our tent, mattresses and a quilt & took ages putting up the tent because it's been a long while and we forget how to put it up in between camping trips. We sat and had a drink and a chat with the other people staying here and crawled into bed without worrying about finding pillows or bedlinen.
So  now the African adventure can begin!