Finally after 7 nights at Fat Monkeys at Cape MacClear I got moving again. It was 259km to the next decent campsite, so I was on the road before 9am. I managed to get out of Fat Monkeys', but the village tracks are confusing, and I have no idea if I went the right way. It was 20km down to Monkey Bay where I picked up some supplies I knew I could get at one of the shops. Then it was of along the semi potholed road to meet up with the M5 heading north.
I was aiming for Salima, which had supermarkets, from which I hoped to top up my supplies. I found the supermarket, from the vast array (not) I got some canned baked beans, canned tuna and very surprisingly canned blueberries, plus a 5l container of water. Outside I found a seller selling some very nice apples, and from someone else I got a big bunch of bananas from. I also found the ATM and got another enormous wad of money out of, being about $A150. I tried about 3 service stations to buy diesel with a credit card, with no luck, but at the 4th I managed to buy 30l with a credit card.
Then onwards north. At around 4pm I got to Nkhotakota pottery, highly rated on iOverlander, but their camping was full. Now its 4:15pm and dark is less than an hour away. I head back to the highway looking for Fish Bay, I come across a sign to Nkhotakota Safari lodge, that also might be Fish Bay, so I head down. My GPS sends me down a side track, but local kids tell me I am wrong. I decide to take their advice. I get about 200m from Nkhotakota Safari, and there are 100's  people milling about the road into the Lodge. This concerns me, because I think it is some sort of protest or demonstration, that I don't want to be involved in. I speak to a couple of people standing around, and they sort of convey that they will let me in. The guy at some sort of temporary gate waves me over and lowers the gate. I gingerly squeeze amongst all these people, and I emerge into – a football game. The guy at the gate was probably charging people.
I arrive at Nkhotakota Safari lodge, and I get a campsite in their small camping area on the beach. They have no other guests. Next morning I leave at 7:30am, and go to pay the 6,600 Kw for camping (about $A10) . I give them 8,000Kw, but they have no change. I point out that they have this huge lodge but they cannot give me 1,400Kw change (about $A2). Eventually even though there are about 8 people working at this lodge they manage to scrape together 1,000Kw change.
I head into Nkhotakota town and stop at the local supermarket but they don't have much to choose from. Then up the road I find a bakery and get some bread rolls for 900Kw ($A1.50)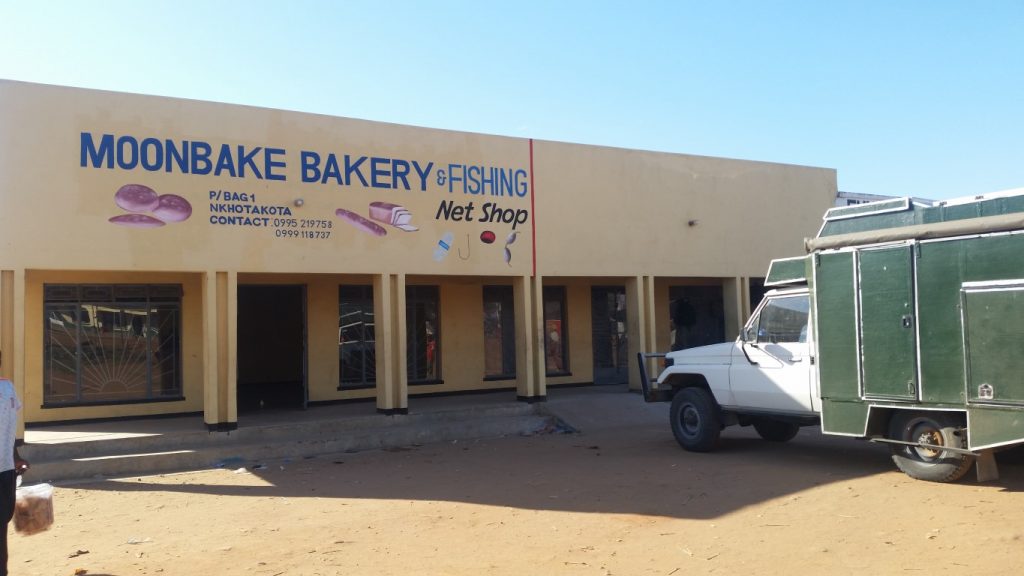 Then it was on the road heading north again. The road was narrow with broken edges. I often had to leave the bitumen to let trucks pass, carefully picking the spot to get off the road. It rained as well for a few minutes. I got to the turnoff to Ngala Beach and made myself at home, and one of the best campsites I have stayed at in Africa.