Throughout our travels, tyre problems have been an intermittent but irritating companion. Something to do with the places we go to and the ways we get there, I guess. We've also returned a few rental cars with their batteries in much worse condition than when we first got them, but that's another story for another time.
In mid-2001, 6 months after we met, Greg and I took a tandem bike to Viet Nam, back in the day when there was one ATM in Hanoi and one KFC in Saigon. We planned to ride from Hanoi to Sapa, but that plan came badly undone when we wrecked the inner tubes we'd brought with us and had loads of trouble finding replacements. Despite that, we had a great trip and … well, we're still together 18 years later, and still travelling in unorthodox ways to off-the-beaten-track places.
Then there was the time a couple of years later when we drove to Broome via the Tanami Desert with our kids, Greg's parents and his niece. We had so much trouble with tyres on the Tanami that I bought a new set at Hall's Creek. They were eye-wateringly expensive but worth it – it was a great trip and when I remember the trip, the last thing I think of is the cost of those tyres which ended up lasting a long time and took us on other camping trips within Australia – Simpson Desert, Innamincka, across the Nullarbor to Esperance & Israelite Bay.
And then more recently there was the Swedish rental car that got a hole in a sidewall of a tyre in Oslo and we just couldn't find a replacement, so Avis replaced the whole car for us. And the time we 'did' 2 tyres within 24 hours in Namibia.
Which brings us to our latest adventure. 4 punctures and 2 blowouts. I'm not even going to add 'so far', because I think that's quite enough. We've had to spend a couple of nights pretty much camping wherever we could find to stop because of a puncture. Always in the right rear tyre. We're using spilt rims and the tyres themselves are all good, it's the inner tubes that are our problem.
Yesterday was a really trying day. We ended up on the side of the road to Namibe, a sort-of resort town on the west coast, about 10 kms south of where we'd camped the previous night, with our 2nd blown inner tube of the trip and rapidly dwindling options. It happened on a stretch of road where there was barely enough space to pull off, but thank heavens it WAS the right tyre in this country where they drive on the right side of the road. Changing a tyre right beside traffic wizzing past would be deathly.
Part our emergency kit is 2 hazard triangles and I put them out about 50m on either side of Clancy, to warn oncoming traffic. Trucks were decent and slowed down & drove on the other side of the road, most cars didn't even adjust their speed although a couple did stop and offer to help. A tow truck drove the 50kms out from Namibe to see if we needed his services but we declined with thanks. At that stage we still only had 3 wheels on Clancy, so getting him on the back of the truck would have been tricky. We think someone must have just sent him out 'on spec'.
We do have 2 spares, but by then we were down to: 2 wrecked inner tubes, one that had been patched and 3 remaining decent tyres. So Greg hopped online and found a really good piece of advice on the Beadell Tours page which suggested using talcum powder between the inner tube and the tyre to stop friction. We have talcum powder because Greg uses it when he makes fibreglass. Definitely worth a try. So, we limped into Namibe doing 40km/hr and with me watching the Tyredog tyre pressure monitor the whole time.
Then how do find a tyre place? We drove around a few streets in the centre of town without success, then Greg had the excellent idea of asking a policeman. There were a few gathered around a modest building which turned out to be the police station. One of them in plain clothes offered to go with Greg to show him where to go, while I waited inside the station. First place had none, but recommended another place where Greg bought the shop's entire stock of 2 inner tubes.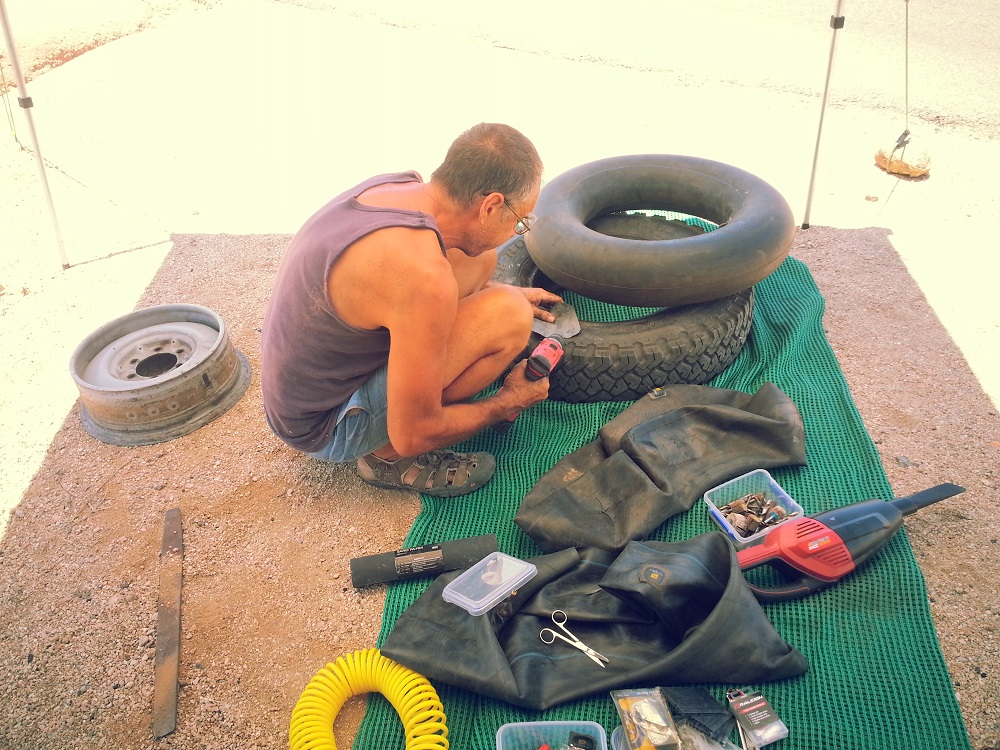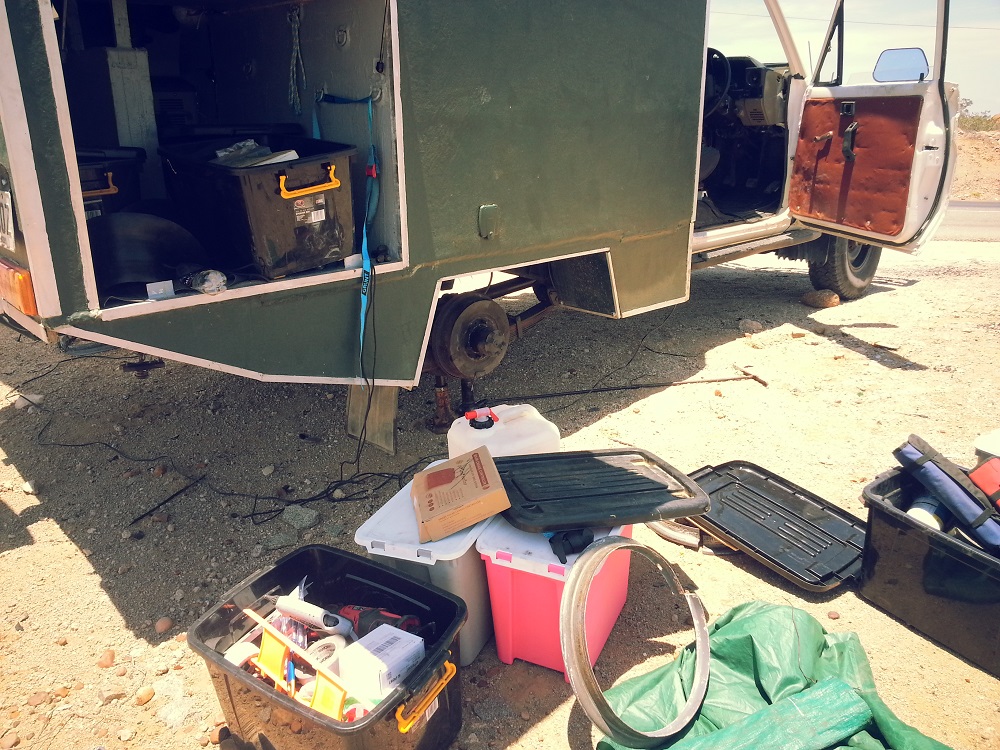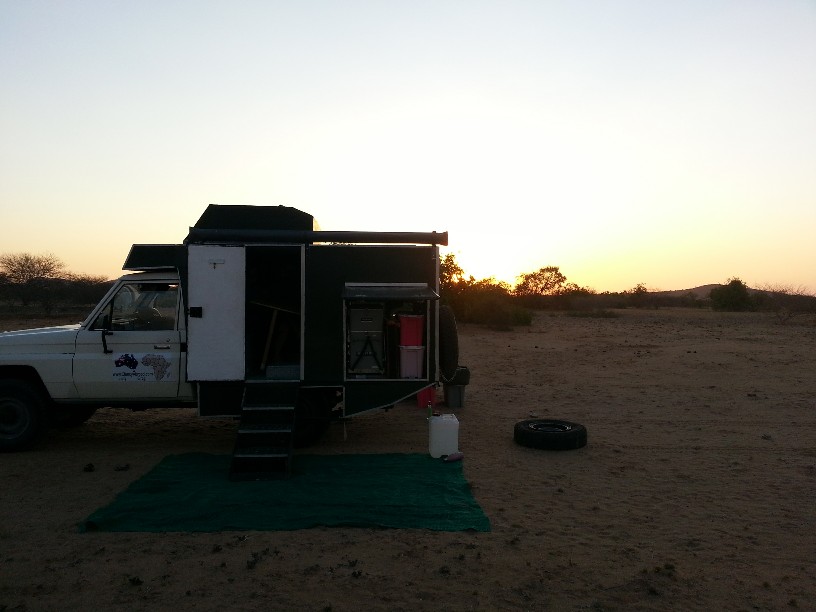 We're now heading south-east to Virei to visit Tchitundo-Hulo – petroglyphs and rock paintings. Last night we pulled off the road about 15kms south of Namibe and drove over a sand dune to be partially protected from the impending thunderstorm which hit about 5 minutes after we stopped. Honestly, the best thing about yesterday was standing naked in the rain, washing off the grime of the day